November Meeting: Earrings, Earrings, Earrings!
Don't Forget  Change Your Clocks and Fall Back on Saturday Night!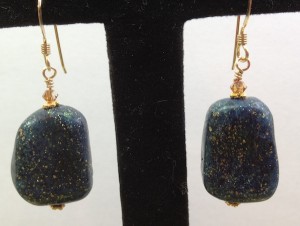 The November is the lead-up to the gifting season, so this month's meeting will be dedicated to making three different kinds of earrings: Glittery translucent, fantasy stone, and faux ceramic. Click on the images below to see a larger picture of the samples.
Barbara will show everyone some simple techniques to make great earrings using inclusions, texture, as well as some construction and finishing techniques. You'll be able to take home 3 pairs of drops, ready to be turned into earrings for yourself or for someone special.
When: Sunday, November 6 @ 1:00 PM
Where: Michaels Crafts Store Classroom
What: Earrings
Bring your basic clay kit and a small amount of ecru (or white and some gold) clay. You will also need 2-4 ounces of translucent clay.  Preferred brand for translucent clay (in order):
Pardo Profressional
Kato Clay
Fimo Soft
Premo Frost
If you have liquid translucent clay or Sculpey Bake & Bond please bring that, too.
Extra items you might want to bring: , leaves or sprigs of fresh herbs, texture sheets / stamps, Pearlex or Perfect Pearls, embossing powders, heat-safe glitter, and composite foils.
The guild will provide the miscellaneous supplies for the projects and an oven for curing.
Dayle Doroshow Workshop Weekend
Details have been posted for our workshop weekend with Dayle Doroshow. There are three classes from which to choose and discounts if you register for multiple classes. See this page for more information.